Sixth Form Virtual Taster Day
Welcome to our Park Hall Sixth Form – Virtual Taster Day
This page enables you to access a wide range of information and guidance about the Sixth Form at Park Hall and find out what you can be doing this summer to make sure you are as well prepared as possible for the start of the new school year in September.

Use the links below to access the films, slide shows, activities and resources that you need to make the most of today – and get yourself ready for life as a Park Hall Sixth Form student.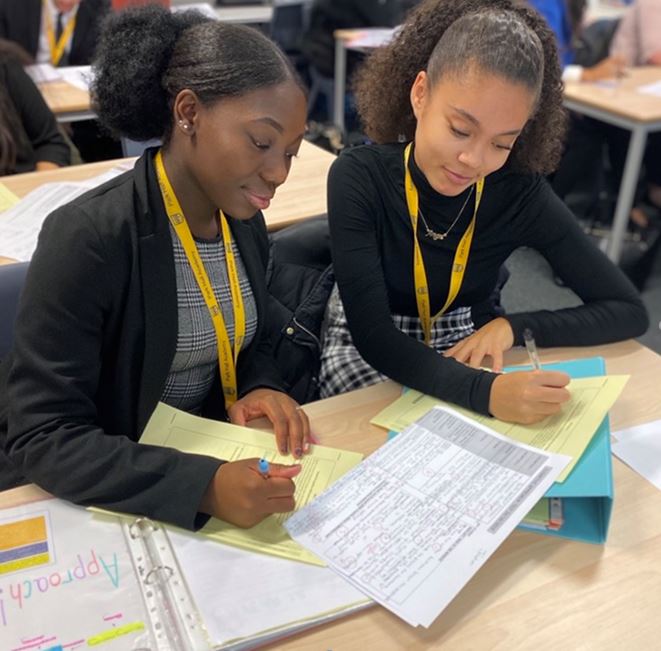 Welcome from Dr Close (Associate Headteacher)
Dr Close welcomes internal and external applicants to the new year 12.
Sixth Form Outdoor Space: Developments (Mr Cornell)
Mr Cornell discusses the re-establishment of the 'Sixth Form Terrace' – an outdoor space for use by Sixth Formers only. This area will be secured over the summer through the building of a new fence running alongside the path from the Water Orton Road gate.
Looking Ahead to September with Mr Cornell (Senior Assistant Head – Post 16)
Mr Cornell discusses the events of the last few weeks and looks ahead to the start of the new school year in September.
Virtual Taster Day Film (Slides with Commentary)
Mr Cornell provides an audio commentary to the slides that you would have seen during a 'normal' taster day. As well as discussing the practicalities of Sixth Form study (including finalising subject choices, the Academy Colours award programme and the Business Dress Code) we examine the 'purpose' of level 3 qualifications and the importance of an 'Aspirational' mindset.
Virtual Taster Day (Slides and Information)
These are the same slides – but without the audio commentary, for you to go through at your own speed.
Sixth Form Student Testimonials
Six of our current 6th form students discuss their experiences of the Sixth Form. They highlight how sixth form study is different to GCSE, what they have learned from the experience and share advice on how to get the most out of Sixth Form Study.
---
Subject Information and Preparation Activities
Explore a wide range of 'preparatory' activities in every subject ahead of your start in September. This is a great chance to 'try before you buy' and find out whether a course is really for you.

Please do take the time to watch the films and go through the slides as there is a wide range of useful advice about what you can be doing now to prepare as well as possible for a good start in September. You will also have an opportunity to take part in live 'Q & A' sessions with subject teachers on Wednesday and Thursday via the '6th Form Offer Holders' team on Microsoft Teams. The schedule for these sessions is given below. Simply log on to Teams at the allotted time and opt to join a 'meeting' as it goes live.
6th Form Subject Question & Answer Schedule
| | | |
| --- | --- | --- |
| | Wed 24th June | Thursday 25th June |
| 9.00 – 9.30 | Mr Sanghera - IT | Ms Parker - Physics |
| 9.30 – 10.00 | Ms Vaughan – Applied Psychology | Ms Moody- Biology |
| 10.00-10.30 | Mr Rowland - History | Mr Edwards – Media Production (A-level and BTEC) |
| 10.30-11.00 | Ms Bartlett - CPLD | Mr Allison -Applied Science |
| 11.00-11.30 | Ms Bartlett – Government & Politics | Mr Cornell – 6th Form Questions |
| 11.30-12.00 | Mr Cresswell – Health and Social Care | Mr Hughes - Geography |
| 12.00-12.30 | Ms Carlin – Art / Photography | Mrs Cullum Kenyon – Performing Arts |
| 12.30-1.00 | Mrs Davies - English Literature | Mr Cornell – Psychology & Sociology |
| 1.00-1.30 | Mrs Churchill -Sport | Mr Plackowski - Maths |
| 1.30-2.00 | Mr Williams - Chemistry | Mr Bellingham - Enterprise |
| 2.00-2.30 | Mr Cresswell - Criminology | |
| 2.30-3.00 | Mr Cornell – 6th Form Questions | |
Park Hall Sixth Form Bursary Policy
Park Hall Sixth Form students with household incomes below £28,000 are strongly encouraged to apply for the 'Sixth Form Bursary'. This is additional funding that you may be able to claim towards the cost of your education. If you qualify – this means you will receive an £80 contribution towards the cost of Business Dress at the start of the year and will be able to 'claim back' the costs of the following up to an annual total cost of around £400. (£1200 in the case of children in care or recent care leavers).
Curricular School trips
School related travel expenses (such as a bus pass)
School Stationery (Folders, plastic wallets, pens, calculators)
Text Books
Revision Guides and Materials
Payment for Prom
UCAS Application CostsPark Hall Sixth Form Bursary Application Form

Park Hall Sixth Form Bursary Application Form
If you qualify for the Sixth Form bursary please complete the form above and submit it with the required evidence to our Sixth Form Administrator Mrs Dann. Applications can be emailed or posted using the details provided.
What Happens Next?
The Dfe have confirmed that GCSE results will be announced as originally planned on Thursday 20th August and will be available to you on that day. Enrolment into the Sixth Form will take place on Friday 21st August (the day after GCSE results day). Further information about what will happen on these days will be provided shortly in light of the latest government guidance regarding Covid-19.
We strongly recommend that, where possible, you keep yourself free on Friday 21st August. This will enable you to complete the enrolment process, confirm your subjects and be allocated to a tutor group ahead of September.
I hope you enjoy your 'Virtual Taster day' and look forward to seeing you soon to confirm your options for Sixth Form study.
Yours sincerely
Mr I Cornell, Senior Assistant Head: Post 16