Performing Arts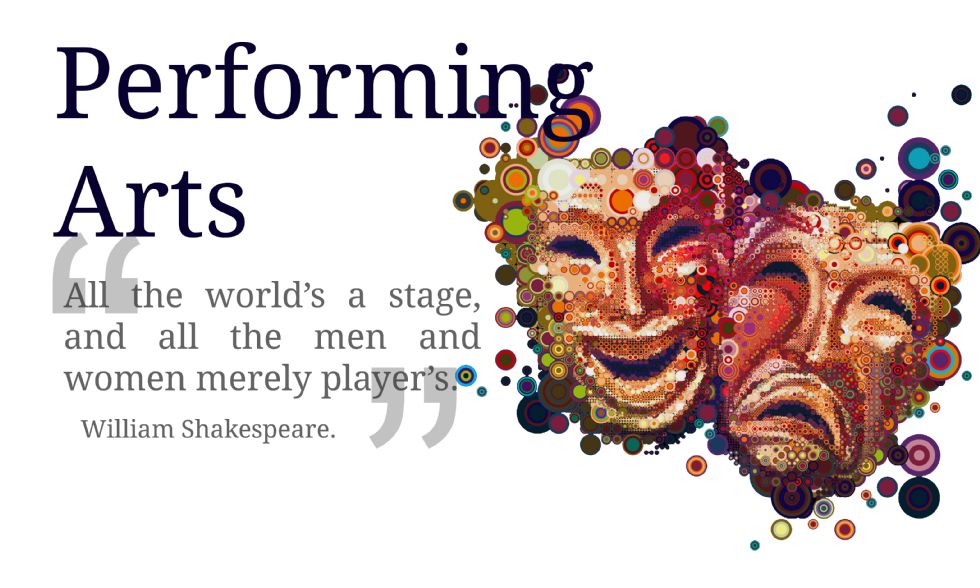 Overview
What is Performing Arts?
Performing Arts is an exciting part of the curriculum at Park Hall Academy as through Dance, Drama and MusicAL THEATRE we 'Discover, Create and Perform'. As a Performing Arts Specialist Academy we endeavour to take all our students on a journey of creativity which gives them a rite of passage to self-expression. By doing this we ensure that throughout their time at the school and within all aspects of school life Performing Arts is at the heart of their learning experience and provides a memory never to be forgotten.
What skills will I gain from studying Performing Arts?
From the moment a student starts at Park Hall Academy the creative journey begins and the world of Performing Arts is introduced. With every step the student's 'back pack', which was once empty, begins to fill with skills which not only gives them the confidence to perform in front of others but also the skills that are transferable to all aspects of their life and development. It is these precious skills that our students are encouraged to discover and create with and these skills that enable students to have the belief that they can do anything.
Over the years students have returned to say thank you to us as they believe it is due to the help and support of the staff that they were able to conquer their dreams and full fill their life long ambitions. We are very fortunate within The Performing Arts Faculty as each member of staff brings something special to our learners and offers a wide variety of expertise and experience.
Mrs Cullum-Kenyon: Faculty Leader
Miss Chant: Teacher of Performing Arts
Miss Keyte: Teacher of Performing Arts
Miss Blackford: Teacher of Performing Arts
Mr Sansom: Teacher of Music (Solihull Music Services)
What courses are available Post 16?
At post 16 we offer three courses which lead on from those offered at KS4:
A Level Dance
BTEC Level 3 Subsidiary Diploma in Performing Arts
What other opportunities are available in this subject?
Throughout the year students in all years will be given the following opportunities to support their curriculum time:
Instrumental peripatetic lessons in guitar, drums, brass, woodwind, piano, voice, keyboards, drums and strings
At least 3 theatre trips per year
Extra-Curricular clubs in: Dance, Drama, The Creative Choir, African Drumming, Guitar, Rock Band and Keyboard
A visiting Theatre-In- Education Company to perform to each year group each year.
Participation in a whole school production
Workshops with professional companies
Perform in The National Rock and Pop Festival
Perform in curtain raisers at The Birmingham Hippodrome
Take part in back stage tours around 4 of the main theatres in Birmingham
Perform work in Primary Schools
Have the opportunity to perform yearly in The Shakespeare Schools Festival
Where can I find out more information?
Please ask any member of The Performing Arts Faculty for any advice
www.edexcel.com www.aqa.org.uk www.artsaward.org.uk

Key Stage 3
Year 7
Term

Dance

Drama

Autumn 1

An introduction to Performing Arts Skills and intro to choreography and drama techniques

Autumn 2

Professional rep- Still life

The Time Machine

Spring 1

Musical Theatre - Matilda

Spring 2

The Nutcracker

Harry Potter

Summer 1

Around the World

Summer 2

Stimulus
Year 8
Term

Dance

Drama

Autumn 1

Choreography

Silent Movies

Autumn 2

Professional rep- Ghost Dances

Masks

Spring 1

Musical Theatre – Bugsy Malone

Spring 2

Free Running

Physical Theatre

Summer 1

Revelations – Alvin Ailey

'If I had a dream'

Summer 2

Stimulus
Year 9
Term

Dance

Drama

Autumn 1

Choreography

Grim Tales

Autumn 2

Swansong

Bouncers

Spring 1

Musical Theatre – Blood Brothers/ footloose

Spring 2

Media link - Dance and multi media

PSHE Link – Too much punch for Judy

Summer 1

The Company

Summer 2

Stimulus
Curriculum Overview for Performing Arts
Key Stage 4
Term

BTEC First Award in Performing Arts

(Acting or Musical Theatre)

Year 10

Year 11

Autumn 1

Variety Show

Unit 2: PP

Autumn 2

Unit 3 – Acting Skills

or

Unit 5 – Musical Theatre Skills

Skills Development workshops and master classes

Spring 1

Unit 1: Individual Showcase

Spring 2

Summer 1

Unit 2: PPP

Summer 2
Term

GCSE Dance

Year 10

Year 11

Autumn 1

Safety of the dancer/ dance space

Practical examination preparation

Set work (4)

Autumn 2

Choreography and performance skills/ Constituent Features of Dance

Set work (5)

Spring 1

Learn set phrase x 2

Shadows (1)

Spring 2

Learn set phrase x 2

Shadows/ E of E (2)

Set work (6)

Summer 1

Group performance/ set work practical exploration

E of E (2)

Written exam preparation

Summer 2

Infa (3)